Portable Podiums
Plywood case for Arc2 Podium with Microphone Mounts
About this plywood case for the Arc2 with Microphone Mounts
This plywood case fits the Arc2 with microphone mounts and Arc2 water table together.
It has interlocking joints and is glued and screwed for strength. It has no padding or foam. Plywood is naturally slightly softer than the metal parts, so it protects the parts and does not need any padding or foam. We cut the parts ourselves on our computer controlled machine. We use plywood made from hardwood, so the boxes are strong and yet relatively lightweight. It has 2 wheels to make it easier to transport.

The handles are cut into the plywood which makes it easier to move without protruding handles that would increase the overall size. Also we save time and money not needing to buy handles and attach them.
More about this plywood case for the Arc2 with Microphone Mounts
Background- how did this box come about?
Here in our workshop, we use our CNC machine to make plywood boxes and trolleys. This helps make our production more efficient and keeps the pulpit parts safe while we are making and storing them.

In 2015, Brian Houston from Hillsong Church made a book tour of the USA (to promote his book 'Live Love Lead'.) We made plywood boxes to hold his preaching equipment. The boxes were efficient to make, and the plywood protected the contents with out the need for extra foam or padding.

Some months later it occurred to us that this might be a way to make reasonable priced boxes for our customers that need to bump their churches in and out every Sunday.

In our normal style, what started as a modest goal turned into an ambitious project as we produced prototype after prototype, endlessly improving the humble plywood box. Each plywood part needed fulfil 2 functions. Each joint needed to be strong and also efficient to computer cut and assemble.

We fought for every millimetre to make it as small and lightweight as possible. Finally 28 prototypes later, we had the optimum result. During the process we reduced the size by 32% and the weight by 24%.

We think that by putting in a lot of design effort, the product can be better and more efficient to make. As a result for your church, you get an optimum podium case for the price.

This particular case weighs 16kg/36lbs empty.
With Arc2 70cm wide with mic mnounts 25.5kg/56lbs

The plywood case will leave us in perfect condition, but it ships with no extra packaging around it. It will arrive with shipping labels attached directly to it. For this reason there may be minor blemishes and marks from the process of shipping it to you (its first journey!)
Plywood case for Arc2 Podium with Microphone Mounts

Freight
Freight Prices
| | | |
| --- | --- | --- |
| | To USA | To USA-Express |
| $0-100 total order | USD $40 | USD $60 |
| $100-400 total order | USD $70 | USD $100 |
| $400+ total order | USD $90 | USD $135 |
Freight Times
| | |
| --- | --- |
| | To USA |
| Standard air freight | 7-9 days |
| Express air freight | 3-7 days |
- Orders are sent every Monday and Thursday. This will affect the freight time.
For example, if you order on a Thursday afternoon, your order may not be sent until the following Monday.
- US customs are normally very quick, but it may occasionally take extra time to clear customs.
- Freight times are a guide only. Actual times may vary.

You might be interested in...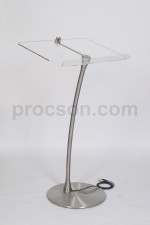 About this podium with microphone:

This is the Arc2 podium for sale with minimalist microphone mounts.
The mounts allow you to have one or two microphones or a microphone and a light. We spent 5 years trying different solutions for the most...