Podiums for Sale
Black Arc2 Pulpit - 70cm/28" wide - anti glare top
About this podium for sale:
This is the Arc2 pulpit with a luxurious black finish.
Super stylish and understated, this lectern has all of the advantages and elegance of the Arc2. Black, textured power-coated paint is applied to the stainless steel base and stem. This emphasises the beautiful trademark silhouette of the Arc2. The painted finish is durable and very forgiving if accidentally damaged. In fact, small scratches can be touched up with a black marker should the need arise.

More about this podium for sale:
The 70cm/28" top has a tint with a special anti glare finish.
The top is in tinted black acrylic with an anti glare factory finish (you don't need anti reflective film.) We had this plastic custom made for us (we had to make a lot!) The base and stem are in textured black. We found this is the most appealing and also the most durable. Top is in tinted black acrylic with an anti reflective factory finish. Assembly is required and a tool is provided. Assembly is easy and takes less than 5 minutes. See below for prices and freight.

If purchasing this pulpit, we highly recommend that you also purchase a cover (see in the "you might be interested in" section below) which will help to prolong the life of the pulpit top, when not in use. A cover is essential if the pulpit is going to be moved around, as it helps to prevent scratches and dust.

Proudly Australian made.
Black Arc2 Pulpit - 70cm/28" wide - anti glare top

Freight
Freight Prices
| | |
| --- | --- |
| | To USA |
| $0-100 total order | USD $20 |
| $100-500 total order | USD $45 |
| $500+ total order | USD $85 |
| Express freight - add | USD $40 |
Freight Times
| | |
| --- | --- |
| | To USA |
| Standard air freight | 5-7 days |
| Express air freight | 3-4 days |
- Regular orders are sent every Monday and Wednesday US time. Express orders are normally sent immediately.
- US customs are normally very quick, but it may occasionally take extra time to clear customs.
- Freight times are a guide only. Actual times may vary.

You might be interested in...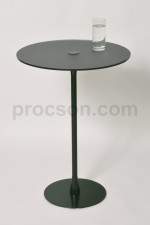 About this church furniture black Arc water table:

This Arc Water table can be used alone or together with the black Arc2.
The base and stem are powder coated in a carefully selected, slightly textured black paint and the top has a special...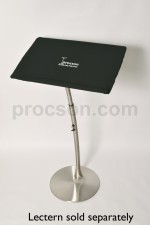 About this pulpit cover - 70cm/28" wide:

Most damage is caused when the preacher is NOT using the lectern!
The cover helps to keep the top free from dust and scratches when it's not in use. Most churches order these covers as they can prolong...