Podiums for Sale
Arc2 Pulpit -70cm/28" wide - anti glare film
About this podium for sale:
This is our bestseller and most popular podium for sale.
Known for designer simplicity and superior quality, we continue to sell more of these than any other pulpit. The Arc2 with 70cm/28" wide top with anti glare film has been a favourite of big churches like Hillsong (worldwide) and smaller churches like the Apex Church (Isle of Wight, England) for the past decade. The top is spacious enough for an open A4 folder and a bible. The podium is still easy to lift with one hand.
More about this podium for sale:
The Arc2 Podium was designed with the speaker in mind.
It does not distract from what the speaker is saying and works in both modern and traditional interiors. We make all of our podiums here in Sydney, Australia, with owner and designer Stephen Procter personally overseeing production. He is obsessed with quality! The anti glare film is necessary if you have a projector screen behind the preacher or if the church services are televised. The anti glare film eliminates reflections onto the walls behind the preacher.
Click here to learn more about anti reflective (or anti glare) film
. It requires assembly for which we provide a tool. Assembly is easy and only takes a few minutes. See below for prices and freight.
If purchasing this podium, we highly recommend that you also purchase a cover (see in the "you might be interested in" section below) which will help to prolong the life of the podium top, when not in use. A cover is essential if the podium is going to be moved around, as it helps to prevent scratches and dust.
Proudly Australian made.
Arc2 Pulpit -70cm/28" wide - anti glare film

Freight
Freight Prices
| | | |
| --- | --- | --- |
| | To USA | To USA-Express |
| $0-100 total order | USD $40 | USD $60 |
| $100-400 total order | USD $70 | USD $100 |
| $400+ total order | USD $90 | USD $135 |
Freight Times
| | |
| --- | --- |
| | To USA |
| Standard air freight | 7-9 days |
| Express air freight | 3-7 days |
- Orders are sent every Monday and Thursday. This will affect the freight time.
For example, if you order on a Thursday afternoon, your order may not be sent until the following Monday.
- US customs are normally very quick, but it may occasionally take extra time to clear customs.
- Freight times are a guide only. Actual times may vary.

You might be interested in...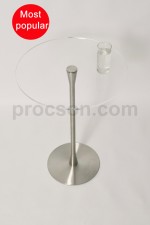 About this church furniture Arc water table:

Most churches that purchase the Arc2 podium also purchase this table.
This table is designed to suit the Arc2 podium. It is to be used for a water glass, jug, laptop computer and other resources like...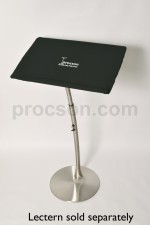 About this pulpit cover - 70cm/28" wide:

Most damage is caused when the preacher is NOT using the lectern!
The cover helps to keep the top free from dust and scratches when it's not in use. Most churches order these covers as they can prolong...