Communion Table
Arc Communion Table with anti glare top
About this Arc communion table:
If you want all of your church furniture, especially the pieces seen on stage, to 'talk the same language' then this communion table is a perfect fit.
Understated and elegant by design, this communion table offers style and function whilst not distracting from the importance of communion.
More about this Arc communion table:
We were asked several times for a communion table and Stephen wanted to design one which looked 'related' to the Arc.
Therefore our communion table uses the same stem and base as the Arc Water table but its top is slightly larger than double the size. This helps to create a unified and uncluttered look for your church interior. Even though one strong person could carry the table (it weighs 14kgs), we recommend two people. This version has the anti glare film added. This is necessary if the table is being used on a stage with a projector screen behind it. Without film, any stage lighting could create haphazard light reflections off of the table. The film eliminates this possibility.
Click here to learn more about anti glare (also called anti reflective) film.
It is shown in the photo with the Swirla Communion Trays
(click here to see our Communion Trays).
Assembly required, tool provided.
Proudly Australian made.
Arc Communion Table with anti glare top

Freight
Freight Prices
| | | |
| --- | --- | --- |
| | To USA | To USA-Express |
| $0-100 total order | USD $40 | USD $60 |
| $100-400 total order | USD $70 | USD $100 |
| $400+ total order | USD $90 | USD $135 |
Freight Times
| | |
| --- | --- |
| | To USA |
| Standard air freight | 7-9 days |
| Express air freight | 3-7 days |
- Orders are sent every Monday and Thursday. This will affect the freight time.
For example, if you order on a Thursday afternoon, your order may not be sent until the following Monday.
- US customs are normally very quick, but it may occasionally take extra time to clear customs.
- Freight times are a guide only. Actual times may vary.

You might be interested in...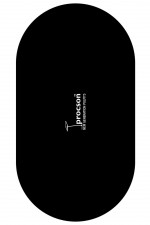 Pulpit cover for Arc communion table:

The Communion Table has a large top.
A cover will help to prolong it's life when not is use. Helping to keep it scratch and dust free, the elastic edged, cotton drill cover will help to keep the top in good...
About this Communion Tray:

Several years ago, our designer and owner Stephen Procter was given an old style gold communion tray by Hillsong Church and asked to design something more modern. This was the result!
With it's anodised aluminium plate...