Black Pulpit with Mic Mounts
Black Arc2 Pulpit - 2 x mic inputs-70cm/28" - anti glare top
About this black pulpit with microphone mounts:
This is the black Arc2 pulpit with minimalist microphone mounts.
The mounts allow you to have one or two podium microphones or a podium microphone and a light. We spent 5 years on and off trying different solutions for the most minimal microphone mounting possible. We wanted a streamlined look, which did not detract from the simple elegance of the Arc2 pulpit. Eventually, with the help of Sydney production company Liquorice, we were able to crack the problem. Now we have it in the powder-coated black.
More about this black pulpit with microphone:
Each microphone mount is individually machined out of a solid piece of stainless steel.
The pulpit top has 2 x female XLR sockets to suit 2 x standard pulpit microphones (like the Countryman Isomax, Shure 412 or Audio Technica 49QL). Alternatively you can use one socket for a micophone, and the other for a light.

In most cases, you only need one microphone.

The purpose of two XLR sockets is to have one socket spare for back up. This spare socket is used for important events. In the case of a mic failure, the sound person can switch to the other mic. When you see for example the Prime Minister speaking from 2 microphones on a lectern, generally only one of them is turned on.

You could for example;
- Use one microphone only (we recommend the Countryman). Leave the other socket empty.
or
-Use a Countryman Isomax microphone in one socket and a cheaper microphone (back up) in the other socket
or
Use a microphone in one socket and light in the other socket

The XLR centres are 4 cm from the top edge, which means there is still plenty of room on the lectern top for notes. At the base, there are 2 x flying leads with full size male XLR plugs.

It does not have a shock mounts, since a standard Audio Technica or Shure shock mount is 4.4cm in diameter and this would unfortunately spoil the look of the lectern (we tried them and they look huge) . We tried a lot of ways to hide shock mounts- they also looked huge. A way around this is to use the Countryman Isomax microphone. This has built in noise cancellation. This means you dont need a shock mount. You can see the Countryman microphone in the "you might be interested in" section below.

Phantom power needs to be supplied externally if required (most sound desks have this built in).

It can be dissembled and packed into a flat road case (check our the "you might be interested in" section below.) This lectern is increasingly popular with production companies. Anti reflective film is included in the price and this model is only available with the 70cm/28" wide top. If purchasing this lectern, we recommend that you also purchase a cover (see in the "you might be interested in" section below) which will help to prolong the life of the lectern top, when not in use. A cover is helpful if the lectern is going to be moved around, as it helps to prevent scratches and dust.

Like our other pulpits, this is made with care by us in Australia.
Black Arc2 Pulpit - 2 x mic inputs-70cm/28" - anti glare top

Freight
Freight Prices
| | | |
| --- | --- | --- |
| | To USA | To USA-Express |
| $0-100 total order | USD $40 | USD $60 |
| $100-400 total order | USD $70 | USD $100 |
| $400+ total order | USD $90 | USD $135 |
Freight Times
| | |
| --- | --- |
| | To USA |
| Standard air freight | 7-9 days |
| Express air freight | 3-7 days |
- Orders are sent every Monday and Thursday. This will affect the freight time.
For example, if you order on a Thursday afternoon, your order may not be sent until the following Monday.
- US customs are normally very quick, but it may occasionally take extra time to clear customs.
- Freight times are a guide only. Actual times may vary.

You might be interested in...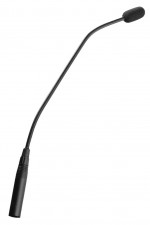 About this podium microphone - Countryman – noise cancelling:

We tested every podium microphone we could get our hands on and found this to be the best by far.
Like noise- cancelling headphones, but in a microphone. This means you don't...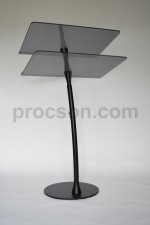 About this black adjustable podium for sale:

This is the adjustable version of the 70cm/28" wide Arc2 pulpit in black.
The perfect solution for the very small or very tall. Or if you simply want an adjustable option. It has a special anti slip...